Chesapeake NUCCA Chiropractor | Precision Spinal Care
Going Beyond Chiropractic Care
More than 100 million Americans experience chronic pain and disease to some degree, whether musculoskeletal (neck pain, headaches, pinched nerves, low back pain, numbness and tingling, hip and sciatic pain) or systemic issues such as high blood pressure, fatigue and low energy, obesity and digestive problems just to name a few.
Your health affects the quality of your life including your economic security and the quality of your relationships and how you live your life. And as your Chesapeake VA Chiropractor, our primary mission is to help the Hampton Roads community be proactive about their health and educate them to the benefits of NUCCA care (a nervous system free of interference), proper diet, exercise and thinking right have far more influence on their health than any drug or surgery.
As your chiropractor in Chesapeake, we use NUCCA, which stands for the National Upper Cervical Chiropractic Association, is a highly specialized chiropractic technique that involves a painless and safe spinal correction that restores body balance and increases the body's natural healing ability.
Nucca in Chesapeake can help restore balance!
How Body Balance Is Determined?
Chesapeake NUCCA Care
As your Chesapeake VA Chiropractor, I think both Chiropractic and Medicine agree that every single body function, regardless of how large or small, is controlled by electrical and chemical messages that travel back and forth from the brain to all parts of the body at the rate of thousands of messages per second. These messages pass through the brain stem, which is an extension of the brain and is located at the top of the neck where the brain and spinal cord meet.
Dr. Roger Sperry, PhD., won the Nobel Prize by discovering that 90% of the brain's activity is used to balance your body within the gravitational field of earth. He stated that if your body is mechanically distorted (off balance), it begins to affect the other 10% of the brain's activity, which controls all the other body functions. read more about NUCCA»
Chesapeake VA Chiropractor For Diagnostic Testing
As a modern Chesapeake chiropractic office, we are committed to using the highest quality research and clinical grade chiropractic instrumentation available for the sole purpose of detecting and correcting of interference to your nervous system. The tools we use for this purpose are SEMG and Thermography. read more about diagnostic testing »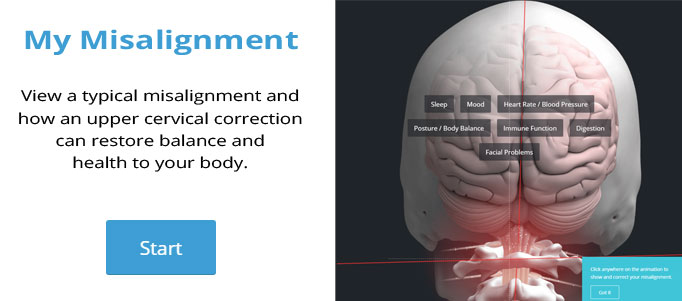 Contact Precision Spinal Care now to schedule an appointment.
---