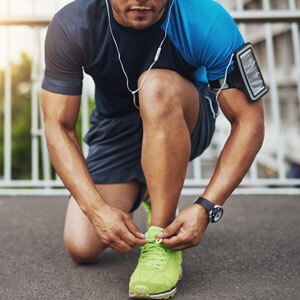 If you are involved in professional or amateur athletics, you may have seen articles about how many top athletes rely on chiropractic care. Or you may be wondering if a chiropractor can help you achieve your athletic goals and overcome the physical hurdles you face.
As a spine management physician in the Chesapeake region for more than 20 years, I have helped many people reach their athletic potential with chiropractic care. In this article, I will share why top athletes use chiropractic care.
What Kind of Athletes Use Chiropractors?
Many athletes across different sports use chiropractors. They include, but are not limited to:
Football players like:
Tom Brady, current Tampa Bay Buccaneers and former New England Patriots Quarterback, who said:


Chiropractic just makes you feel so much better. When I walk out of the clinic, I feel like I'm about three inches taller and everything is in place," and "As long as I see the chiropractor, I feel like I'm one step ahead of the game."

Jerry Rice, former San Francisco 49ers wide receiver and hall of famer who believed in chiropractic care so strongly that he was the spokesman for the Foundation for Chiropractic Progress. He said:


Chiropractic was the key to keeping me in the game" and "Chiropractic helps me lead a very active lifestyle. It works for me better than anything else."

Michael Strahan, former New York Giants defensive end and hall of famer, who said:


Take it from a man who's been beat across the head for about twenty years…You should go to the chiropractor. If you get a good one, I think you will enjoy it. You get your neck adjusted right, your body adjusted right. It's, like, blood flow to the brain, helps you think better, everything."
Baseball players like:
Wade Boggs, former Boston Red Sox, New York Yankees, and Tampa Bay Devil Rays third baseman who said:


Last year I found (a chiropractor), and I have been seeing him ever since. I have been pain-free and feeling terrific. I swear by it. Now, it is just maintenance and keeping in line so the nerves don't touch."

Ryne Sandberg, former Philadelphia Phillies and Chicago Cubs second baseman whose wife said:


He's had some awesome games after getting an adjustment. He was frequently adjusted before games.
Basketball players like:
Michael Jordan, former Chicago Bulls shooting guard who said:


I didn't know how much I could improve until I started seeing a chiropractor. Since I've been in chiropractic, I've improved by leaps and bounds both mentally and physically.

Kobe Bryant, former Los Angeles Lakers shooting guard who relied on not one but two chiropractors to keep him in top shape for his games.
Swimmers like:
Michael Phelps, Olympic gold medalist who underwent cupping while under the care of his U.S. Swim Team Chiropractor, and said:


I've done it before meets, pretty much every meet I go to."
Golfers like:
Barbara Bunkowsky, former LPGA golfer who said:


I have found that chiropractic keeps me flexible and pain-free so that I can perform at my highest level. The benefits of chiropractic have improved my golf swing, putting less stress and strain on my body and allowing me to be a more productive golfer. I believe it also helps prevent other associated injuries that are very common on the LPGA tour."
Martial Artists like:
Jorge Angat Jr, former karate World Lightweight Champion who said


The split second that can be added to my speed by my chiropractor could be crucial,"

and whose manager Dennis Doucette added:

Chiropractic care gives him that little advantage, that little extra strength and quickness and allows him his best opportunity to regain his title."
Track and Field Athletes like:
Joe Greene, Olympic bronze medalist in long jump who said:


I know chiropractic helped me. It helped my performance and I feel better."
Some athletes have believed so strongly in chiropractic care that they have themselves become chiropractors after retirement. They include Olympian skier Maria Maricich.
Do Sports Teams Use Chiropractors?
Not only do top athletes regularly use chiropractic care, and teams regularly have chiropractors on staff. For example, as of 2002, 31% of National Football League (NFL) teams had a chiropractor on their staff. More recent reports indicate that most if not all NFL teams now retain a chiropractor.
Further, the U.S. Olympic team has retained chiropractors since 1980. The New York Times ran an article in August 2021 on how the U.S. Track and Field Olympic Team relies on their chiropractor to keep them in top shape.
How Does Chiropractic Care Help Athletes?
Chiropractic care can have several beneficial effects on the body that help athletes. These include:
Improved performance: Multiple athletes, teams, and managers quoted above have noted their improved performance after undergoing chiropractic treatment. By optimizing spinal alignment, chiropractic care can help your joints, bones and muscles work more naturally. This prevents overexertion and strain that can prematurely tire your muscles. All in all, chiropractic care leads to improved athletic performance for many top and amateur athletes alike.
Decreased recovery time from injury: Injuries due to mechanical spine problems can often be fixed with chiropractic care, especially when the injury is in the early stages. For this reason, athletes rely on their chiropractors to speed their recovery when injured.
Optimized range of motion: Muscles and joints that are misaligned can harm your range of motion, preventing you from reaching your athletic potential. Chiropractic care helps to realign your spine into its natural, optimal position. In turn, this helps your range of motion.
Reduction in pain: Studies show that chiropractic care relieves mechanical spine pain without drugs or surgery. Further, it fixes the underlying problem with your spine. This helps to prevent further injury and stops you from overexerting other muscles to compensate for your painful ones.
Chiropractic Care for Athletes at Precision Spinal Care
As a certified NUCCA chiropractor and spine management physician, I work closely with you to optimize your performance, whether you are a professional or an amateur athlete.
To accomplish this, during your first visit, I will do a thorough examination. Afterward, I will go over my evaluation with you in detail. Together, we will set reasonable expectations and milestones. We will also put together a treatment plan that meets your care needs. I will reevaluate you to make sure you are meeting your goals.
My experience and expertise in spinal biomechanics allow me to competently and safely address your back issues. I am a trauma and hospital-qualified spine management physician. I have credentials in MRI spine interpretation, spinal biomechanical engineering, and orthopedic testing through the Academy of Chiropractic. I am also a fellow in Spinal Biomechanics and Trauma which is recognized through the SUNY Buffalo Jacobs School of Medicine.
If we determine that chiropractic is not the best solution for your needs, I will recommend the type of specialist who is most appropriate for you. I may also recommend other specialists that can be used in conjunction with chiropractic care to help you meet your needs.
We understand that you need to explore all your options when you are trying to treat your pain. At Precision Spinal Care, we are happy to help you determine the best way to address your specific needs and discuss all the options with you and your family.
Call our office at (757) 382-5555 to speak to the doctor or set up a consultation. You can also set up an appointment online here.