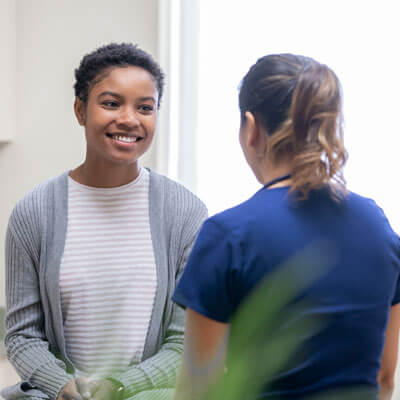 If you are uncertain about having a conversation about your chiropractic care with your primary care provider, you are not alone. Trying to talk about chiropractic care with your regular doctor might be uncomfortable at best.
Let's be honest, not all doctors are familiar with integrative medicine or chiropractic care. So how do you avoid an awkward conversation and how do you answer technical questions that a doctor might ask?
Let the evidence and reports speak for you.
When speaking with your primary care provider about your chiropractic care, you should have some very basic tools to answer the questions your provider may have.
A narrative report from your chiropractor or spine care specialist that explains your condition and why chiropractic care is a good option for you.
Reference blogs and evidence-based articles published by spine care providers.
Reference your chiropractor or spine care specialist's credentials.
An understanding that your condition is biomechanical and not anatomical.
An understanding that chiropractic is recognized as an evidence-based approach to safely and effectively improve and maintain your spine health.
I have been practicing NUCCA Chiropractic in Chesapeake since 2002. During my time in practice I have encountered several patients who have had great success with chiropractic, but also were concerned about discussing their spinal care with their primary care provider. I always make myself available to my patients and their doctors to discuss any concerns about spinal health.
I am board certified in NUCCA (National Upper Cervical Chiropractic Association), which is a safe and painless, evidence-based approach to correct spinal problems. I am also a fellow in spinal biomechanics and trauma recognized through SUNY Buffalo, Jacobs School of Medicine, and have research and practical rotations in the following areas:
Interventional Pain Management
Orthopedic Surgery – Extremity
Orthopedic Surgery – Spin
Neurosurgery
Neuroradiology
MRI Technology
Emergency Department
Internal Medicine/Primary Care.
At Precision Spinal Care, we use the AMA Guides to the Evaluation of Permanent Impairment, 5th Edition. This manual gives precise guidance to measurements and quantifies the "loss of motion segment integrity" when spinal ligaments are compromised. I use evidence-based evaluation to pinpoint the cause of your pain. And I go over the evaluation of your initial examination with you and, if necessary, with your primary care physician.
Why should you tell your primary care provider you are seeing a chiropractor?
It is important for the left hand to know what the right hand is doing–especially with health care. If you had a heart condition and you were seeing a cardiologist as well as your primary doctor, you probably would want them to share information in order to make sure they are not working at cross purposes, like possibly prescribing medications that are contraindicated.
The same is true for any sort of chiropractic or spinal care. Coordination of care requires communication between your various providers to make sure you are getting the best care possible.
Remember, you are a partner in your healthcare. Coordinating and facilitating communication between your providers keeps everyone informed and keeps you on the road to good health overall. The following are the steps you can take to make sure that everyone is on the same page when it comes to your healthcare.
Steps to Talking with Your Doctor
Get a copy of a narrative case notes from your chiropractor. In today's world of electronic health records (EHR), with the push of a few buttons your chiropractor or spine care specialist should be able to give you a copy of your initial history, exams, diagnosis, prognosis, and treatment plan that outlines your problem and how the treatment will be implemented.Share this plan with your primary doctor. At Precision Spinal Care we make it a point to make these reports available to you and, with your consent, to your other medical providers so everyone is on the same page.
Use our website to do the explaining for you. At PSC on our homepage simply click on the blog section and we have numerous blogs written to answer most questions/concerns people have about chiropractic and spine related care.
Make sure you share your chiropractor's credentials with your primary care provider. It is important for your doctors to know the level of expertise of your spinal care provider.
Understand a few basic terms and concepts:

Anatomical v. Mechanical spine pain – if you are seeing the chiropractor, you were most likely diagnosed with a mechanical spine issue
If it is determined that your pain is anatomical, I will refer you to the most appropriate medical specialist.

Chiropractic is an evidence-based form of conservative care for spine related pain. At Precision Spinal Care, I perform a thorough examination of you, your symptoms, and your spine in order to determine whether your spine pain is mechanical or anatomical.If your pain is mechanical, I will start you on a trial period of treatment (typically 30 days). If after the trial period it is determined conservative care is not working, I will refer you to a specialist for further evaluation.Typically patients should be re-evaluated every 30 days to make sure the treatment plan is working.
Talk to Your Doctors and Get Your Doctors to Talk
If your primary care provider has specific questions, you can either ask me or have your doctor call me directly. I can help supply you with your case notes, blogs, literature and answers to explain your treatment plan to your doctor and others.
With your consent, I also am willing to speak directly with your primary care provider to explain any questions about your spinal condition and treatment.
At Precision Spinal Care, I will perform a thorough examination of you before any treatment is performed or prescribed. I will sit with you and answer all of your questions after the initial examination and evaluation. If need be, I will have that discussion with your primary care provider as well.
If it is determined that chiropractic is not the best solution, I will explain your condition and recommend the type of specialist who is most appropriate for you.
We understand that you need to explore all your options when you look for expert chiropractic care. At Precision Spinal Care, we are happy to help you determine the best way to address your specific needs and discuss all your options with you and your family.
Call our office at (757) 382-5555 to speak to the doctor or set up a consultation. You can also set up an appointment through our webpage.